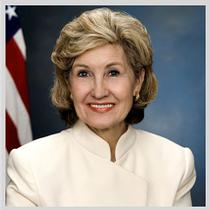 WASHINGTON, DC– Republican US Senator Kay Bailey Hutchison from Texas has calling for an emergency waiver of the Jones Act, which requires many foreign vessels to go through a lengthy bureaucratic approval process in order to assist with the oil cleanup effort in the Gulf of Mexico. Hutchison, who is the ranking Republican on the Senate Committee on Commerce, Science, and Transportation, said she will introduce legislation to temporarily waive the Jones Act to allow foreign marine vessels to help with the cleanup. This extended waiver would be applied for a period of time that is necessary to respond and restore the waters of the Gulf.
"For many of the vessels wishing to respond [to the oil spill], this request needs to be reviewed by three separate agencies: The Coast Guard, the Maritime Administration, and Customs and Border Protection. That is three layers of bureaucracy when time is of the essence. During this crisis, we need to cut through the red tape. We must get all available assets on the scene as quickly as possible," said Hutchison. "There are volunteers waiting with the right equipment, and they're willing to come to our aid. We should know that with oil leaking from the ocean's floor, the natural resources of the Gulf are being destroyed as we speak. We need every resource at our disposal to prevent further destruction."
The Jones Act was put into place in 1920 to ensure that the United States was able to maintain a fleet of merchant ships by requiring that all goods and people transported by water between United State ports be carried in U.S. flagged, owned, and crewed ships.  Currently, many Jones Act waivers require review by the Coast Guard, Maritime Administration, and Customs and Border Protection.